The Saas Fee Hohenweg is one of the classic hikes in the Valais. The challenging trail follows a high route along the west side of the Saastal with stunning, nonstop views of the glacier-clad peaks towering above the Saas Valley and the Bernese Alps to the north.
See Trail Detail/Full Description
Distance: 10.8 miles (one way)

Elevation: 6,973-ft. at Trailhead
Maximum elevation: 7,945-ft.

Elevation Gain: 1,980-ft.

Difficulty: strenuous
More Hikes in:
Saas Fee / Zermatt / The Valais
Why Hike Grachen to Saas Fee (Hohenweg Saas Fee)
The Saas Fee Hohenweg starts in Grachen, a resort perched on the sunny eastern slopes above the foot of the Mattertal (Matter Valley) beneath the northern most peaks of the Mischabel Range. Here a gondola whisks hikers to Hannigalp. After exiting the gondola we follow a trail that curves around the head of the Mattertal valley, accompanied by great views of the Bernese Alps rising above the Rhone Valley.
Soon the trail veers to the south and enters the Saastal, traveling along the valley's steep western slopes beneath the summits of the Mischabel Range. The Fletschhorn, Lagginhorn and Weissmies, rising along the east side of the valley, dominate the magnificent panorama. Views of these peaks will only get better as you progress up the valley.
The overlook at Rote Biel, reached after walking about an hour and a half, features wonderful views of Balfrin, the Lammerhorn and the Bigerhorn towering over the Balfrin Valley, a small side valley. The Balfrin Glacier spills down the flanks of the peaks.
After dropping into the Balfrin Valley the trail climbs to Bockwang, crosses a large rockslide and then travels to another great overlook at Lammugrabe, with fine views of the Almagellerhorn, Stellihorn and the Egginer to the south. Across the valley the Fletschhorn-Weissmies group fills the skyline.
Beyond Lammugrabe the path descends along Balfrin's western flanks, with terrific views of the Bidergletscher (Bider Glacier). Waterfalls, fed by meltwater, spill down the sides of the mountain. A culvert, tunneling under the main torrent of meltwater from the glacier, provides safe passage under the falls. Past the falls, the trail descends down forested slopes to Saas Fee.
This is a very long and demanding walk with lots of ups and downs making it much more difficult than the distance and simple elevation gains and losses may suggest. In places the trail is quite narrow, clinging to the steep slopes. Fixed ropes and chains provide a level of security along steep and exposed sections of the route. This is definitely not a trail for people with a fear of heights.
This hike can be done in reverse from Saas Fee to Grachen but includes an additional 1,000-ft in elevation gain. My recommendation is to do the hike in the Grachen to Saas Fee direction.
Note that there are no places to obtain food and drink along the route. Once on the trail there are very few places to "escape" to the valley if the weather turns foul. So pick a beautiful day, set out early, take plenty of food and water and enjoy this glorious high walk along the Saastal. It is one you will remember for a long time.
Elevation Profile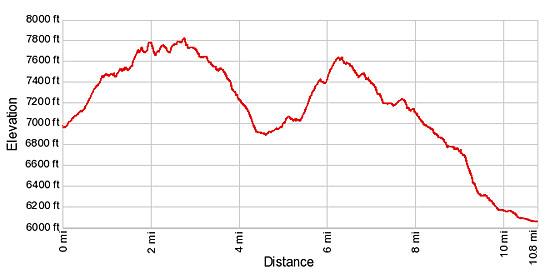 Support our Site
Buy the Book

This opinionated guide includes all the hikes in the Switzerland section of the website plus info on local services and nearby attractions.
Trail Resources
Trail Detail/Full Description / Trail Photo Gallery / Trail Map
Basecamp(s) Information:
Saas Fee / Zermatt
Region Information:
The Valais
Other Hiking Regions in:
Switzerland